Conference Venue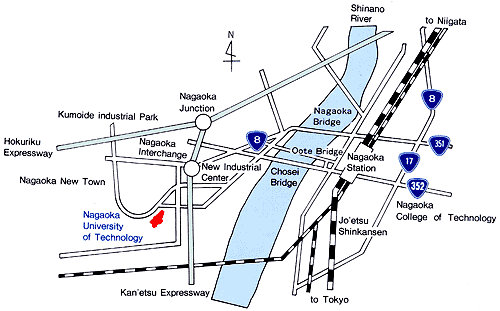 Nagaoka University of Technology
1603-1 Kamitomioka, Nagaoka, Niigata 940-2188, JAPAN
TEL:+81-258-46-6000
Access to Nagaoka University of Technology
By complimentary shuttle service
Every morning from March 22nd to the 24th, the free bus for the Nagaoka University of Technology leaves only once at the appointed time .
Information of shuttle service(PDF)

By taxi
By taxi from Nagaoka Station:about 20 minutes (8.5km) and fare is about 2500 JPY.
If you want to more information of Japanese taxi, please check the this site .
By public bus
By bus from Nagaoka Station:Take Gidaimae bus line at bus platform No. 7. Time required is about 30 minutes and fare is 310 JPY. Get off the bus at "Gidaimae".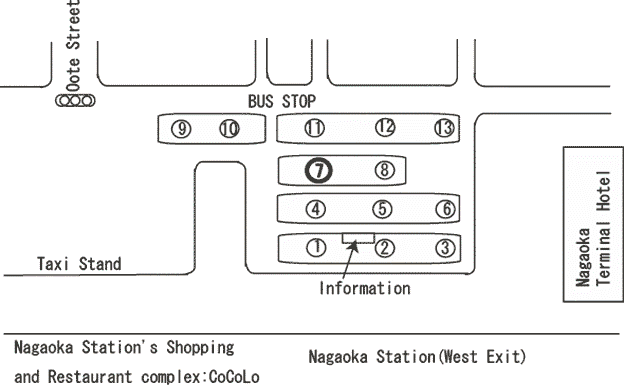 When traveling by bus
Check the destination of the bus before boarding.
Board the bus from the rear door and take ticket from the machine near the door. The number on the ticket indicates the fare zone. If you board the bus in the starting zone, there is no numbered ticket.
Announcement is made inside the bus of the approaching bus stop. When you hear the name of the bus stop, where you wish to get off, press the button beside the window or on the ceiling of the bus.
Fares are shown on the board above the exit at the front of the bus. Check the fare against the number shown on your ticket.
Put your ticket and the fare (or coupon ticket) into the box beside the driver when you get off. If you have a pass, show it to the driver.
Have a supply of small changes with you when you travel by bus. If you do not have enough change, use the change machine next to the driver. You can change 100 JPY and old type 500 JPY coins and 1,000 JPY bills.
Children between the ages of 1 and 11 pay half the adult fare, which is rounded off to 10 JPY amounts. Children 12 years old and above pay the full adult fare. Children who are under the age of 6 ride free when riding with an adult. In the case of children under the age of 6, for every one adult, one accompanying child can ride for free.
Timetable of public bus
For conference hall

| | |
| --- | --- |
| Destination | Nagaoka University of Technology (Gidaimae) |
| Elapsed | 30 min. |
| Fare | 310 JPY |
| 7 | 10  45 |
| 8 | 00  10  30 |
| 9 | 05 |
| 10 | 05  35 |
| 11 | 05  35 |
| 12 | 05 |
| 13 | 05  35 |
| 14 | 05  35 |
| 15 | 05 |
| 16 | 05 |
| 17 | 05  35 |
| 18 | 35 |
| 19 | 05 |
For Nagaoka Station
Destination
Nagaoka
Station
Elapsed
30 min.
Fare
310 JPY
7
55
8
9
05  25  55
10
55
11
25  55
12
25  55
13
55
14
25  55
15
25  55
16
55
17
55
18
15
19
10  40